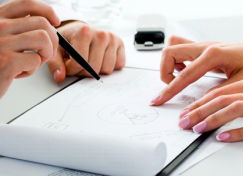 As the former president of the California Association of Business Brokers and a current board member of the International Business Brokers Association, I am often asked how prospective business seller's should choose a business broker. 
Many sellers do not know that in California, there is no special business broker license. Business Brokers are licensed by the Department of Real Estate and a real estate license is all that is required for someone to call themself a business broker. Since there are hundreds of thousands of real estate licensee's, why are there only hundreds of business brokers? Its because there is virtually no relationship between being a real estate broker and being a business broker.
Business brokers are not attorney's (in general), but they need to know about contracts and leases. They are not CPA's, but they need to understand income statements and balance sheets. They are not writers, but they need to know how to write a comprehensive confidential business review. And they are not psycologists, but they need to know how to manage the emotions involved with buying/selling someones business.
Business Brokers are created equally–at first. But its what happens afterwards is what matters. Continuing education is critical. Find a business broker who cares enough about their industry to join their professional associations. (IBBA, CABB, IBA, etc.) And look for a business broker who has invested the time and put forth the effort to achieve an industry certification. But be careful, certifications are plentiful and for a hundred bucks, you too can be a certified something or another. The major certifications are issued by non profit industry associations and not by an individual company or franchisor. Look for a Certified Business Intermediary (issued by the IBBA) or a Merger and Acquuisition Master Intermediary (issued by the M&A Source). In California, look for a Certified Business Broker (But make sure it is issued by CABB, as there are other's with similar names) Also, ask if they are member of any business valuation associations. (Institute of Business Appraisers, American Society of Appraisers) If they are, they will have access to comparable sales databases and have a better knowledge of the value drivers in business valuation.
Does experience matter? Ask yourself if you would like to trust your life to a surgeon just out of medical school. Or would you prefer to have a surgeon who has done several hundred of the same type of proceedure? Yes, I think experience does matter, so find someone in the industry for at least 3 years and who ONLY does business sales. A broker selling homes, apartments, or doing doing  home loans while being a part time business broker simply cannot keep up with what's going on in all these industries.
Lastly, remember there is no effective MLS for business sales. There are certainly a hundred web sites on which to advertise, and perhaps your local residential MLS has a business opportunity section. But this is not a "post your business to the MLS and buyers will find you" system. So choose your business broker wisely. Because they are the market maker. They are the one that is representing you in a very complicated maze of business financial statements, assumptions of leases, screening of buyers, coordinating with your legal team, navigating through the escrow process, and hopefully calling you to congratulate you on the sale of your business!